One prominent candidate from the opposition Ahmed Konsowa, was imprisoned on December 19 after he announced his candidacy.
By The Dawn News / March 30, 2018
After three days of voting, incumbent President Abdel-Fatah al-Sisi was declared winner of the 2018 Egyptian Presidential Elections on Thursday March 29. His sole opponent, Moussa Mostafa Moussa, entered the elections just before the January 29 deadline, after both he and his party endorsed Sisi's second term and had organized campaign events for the President. This, along with the elimination of opposition candidates and the very low voter turnout has many questioning the legitimacy of these elections.
What happened to the opposition?
In the lead-up to the elections, 5 different candidates dropped out due to their arrest or harassment. One prominent candidate from the opposition Ahmed Konsowa, was imprisoned on December 19 after he announced his candidacy. A political analyst from Egypt commented to Al Jazeera, "Ahmed Konsowa is the antithesis of Sisi – he's smart, well spoken, educated and supports the January 25 revolution. He presents Egypt with an alternative … and the idea that an alternative may exist is threatening to the Egyptian regime."
Former prime minister Ahmed Shafik, pulled out of the race on January 9, stating that he was "not an ideal person to lead the state." However The New York Times quoted one of Shafik's lawyers, who remained anonymous, as saying that the Egyptian government had forced him to withdraw by threatening to investigate previous charges of corruption against him. It was also reported that he had been deported from Dubai on December where he announced his candidacy, and subsequently held without means to communicate for 24 hours when he returned to Egypt.
Mohamed Anwar al-Sadat, the nephew of assassinated Egyptian president Anwar al-Sadat and an outspoken critic of the Sisi regime and its policies, announced on January 15 that he would not run for president. He stated that "My decision not to run primarily has to do with the climate in which you don't feel there will be a genuine competition or equal opportunities." He also affirmed that it was a measure to protect his campaign workers from intimidation and arrest.
On January 23, another presidential hopeful and former military chief Sami Anan was arrested and accused of incitement and elections violations a week after he announced his candidacy. Mahmoud Refaat, a spokesman for Anan's campaign abroad told the Guardian, "30 members of campaign were also arrested as well as some of their family members. It's not known where any of them are being held."
A day after Anan's arrest, human rights lawyer and socialist Khaled Ali also announced that he was withdrawing his candidacy as "the opportunity for hope in this presidential election has gone". He stated that he and members of his campaign were met with harassment, attacks, and obstacles from the government at every turn. Several members of the campaign were arrested and he was also embroiled in a court case when he was accused of making an obscene gesture outside a Cairo court.
One by one, the candidates that spoke out against Sisi's regime and its heavy handed repression, corruption, neoliberal policies and violence, were magically no longer opposition.
Abstention
It was reported by several media outlets that the National Electoral Commission threatened to fine voters USD$28 who are eligible to vote and did not do so. The authorities in some regions stated that districts that had high voter turnout would be rewarded with upgrades to their infrastructure. There were also reports of people receiving payments, food and other incentives to ensure their participation in the elections. While in the media, the message was repeated that voting was a patriotic act to defend and support the nation, though many Egyptians questioned the point of voting if it was obvious that Sisi was going to win.
Despite the best efforts of the Government, sources state that the polling stations saw very little traffic in the three day period and the preliminary results show that Sisi won 92% of the votes with 42% voter turnout.
Sisi Presidency
It is unsurprising that with a Sisi presidency the elections would be marred by repression and fraude. On July 3, 2013 following the massive protests against Mohammed Morsi's presidency, the Army removed Morsi from office, imprisoned him and dissolved the constitution. An interim government ruled Egypt with Sisi as head of the armed forces until elections were held at the end of May in 2014. With the absence of opposition, Sisi won 96% of the vote and he took office on June 8, 2014.
Following the military coup d'état in July 2013, the Egyptian security forces began a massive crackdown on Morsi's party, the Muslim Brotherhood, thousands of members have been assassinated and put in prison.
On August 14, 2013 the security forces and army, under the command of Sisi, carried out raids of two major protest camps of Morsi supporters and the Muslim Brotherhood, in Cairo, one in al-Nahda Square and at Rabaa al-Adawiya. Since the ousting of Morsi six weeks prior, they had been occupying these two squares. The raids and violent eviction of the protesters in just a few hours resulted in the deaths of 800, one of the worst state-led massacres in history.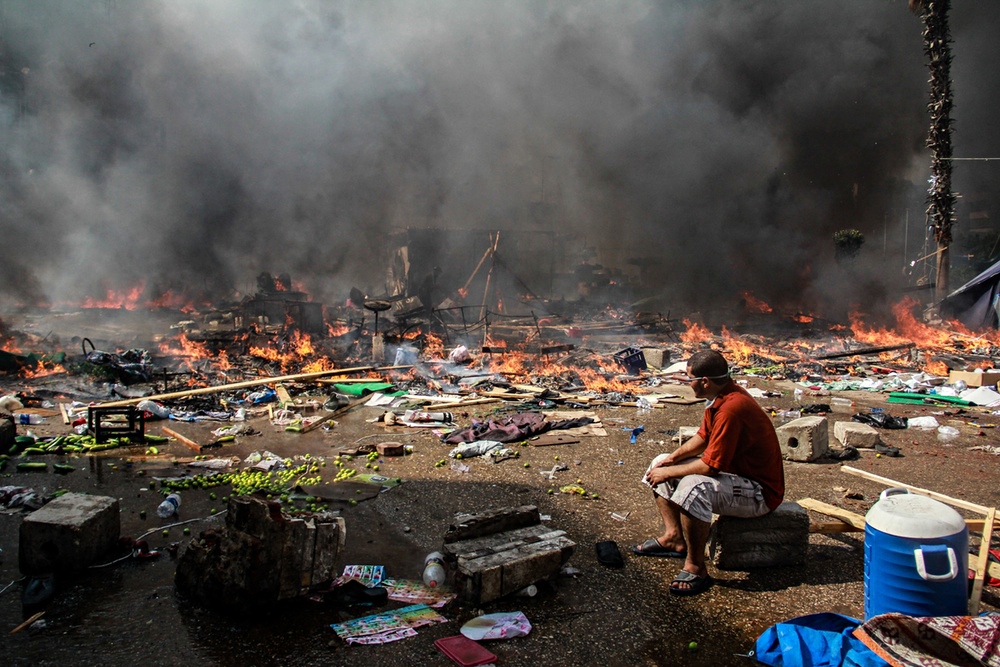 In September, a court banned the Muslim Brotherhood and in December it was declared a terrorist organization. Mohammed Morsi who had been detained illegally since the coup, was formally accused of inciting deadly violence in September 2013 and was imprisoned. He remains in prison to this day and this week a report was released which denounces the conditions he is being held in since they are supposedly lower than those sanctioned by international law and could lead to an early death.
Thousands civil society organizations members, human rights defenders and organizations, media organizations and journalists have also faced the wrath of Sisi and have been tortured, harassed, imprisoned and murdered. Many who were put in prison in these mass arrests and crack downs were even sentenced to death, some of the death sentences were later annulled.
On January 25, 2015, an Italian doctoral researcher Giulio Regeni who had been conducting his research on labor unions was forcibly disappeared, tortured and murdered. His body appeared after 9 days and through the investigation of his assassination it was revealed that he had been under Egyptian state surveillance for some time and supposedly prior to his disappearance he was arrested by Egyptian police.
In the economic realm, Sisi has implemented harsh austerity measures at the request of international financial institutions cutting government subsidies on everything from energy to food and raising taxes on basic goods.