It was back in 1974 that big companies started paying FIFA to get advertising rights for the World Cup — now the mega-event is dependent on them.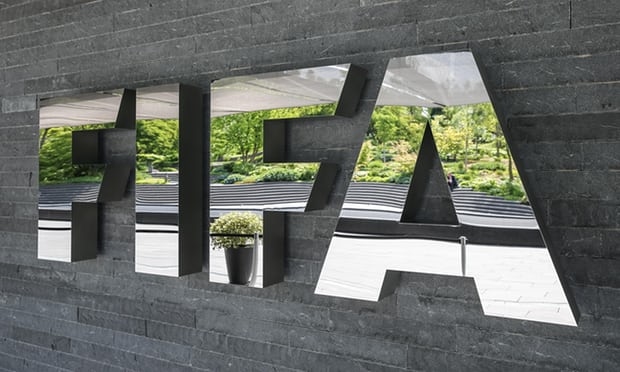 by Subodh Varma/ Source: Newsclick/ The Dawn News/ June 19, 2018
With the FIFA World Cup getting underway on June 14 in Moscow, the biggest sporting event after the Olympics is set to enthral an estimated 3.2 billion people for over a month. How is this massive event organised? Who pays for what? Where does the money come from? Answers to these questions reveal the role giant private corporations have come to play in global sports.
It is estimated that the current World Cup in Russia will generate revenues of up to $6.1 billion for the main organiser, FIFA (French acronym for International Federation of Association Football), the governing body for world-wide football. This is $1.3 billion more than the revenue in the previous World Cup held in Brazil in 2014.
FIFA is, technically speaking, a not-for-profit body with 204 countries as its members. It is registered in Zurich, Switzerland. Its main source of revenue is the World Cup, held every four years.
READ MORE | From Telstar 18 to Boots and Jerseys, the Plastic Side of FIFA World Cup
How does FIFA generate revenue? Mainly by selling the following rights: television and broadcast rights, marketing rights, and licensing rights, apart from revenue from ticket sales. It also invests its earnings in equities etc. from which income accumulates.
FIFA had set a target of earning $3 billion from television rights alone but it ended up with 2% more at $3.6 billion. Big television companies like Fox in USA, or Sony Pictures for the Indian subcontinent, pay huge amounts to buy the right to telecast in a specified country or region. They will recoup their expenses by selling TV time to interested companies for commercials during matches and promos. Similarly, radio broadcast and internet streaming rights were also sold by FIFA. TV rights alone accounted for $2.43 billion of the total $4.8 billion it made during World Cup 2014.
FIFA also strikes sponsorship deals with global companies. These sponsors benefit by one of the most widely viewed TV events — their billboards and signages are visible around the grounds and in stadia. FIFA has sold these sponsorship rights for about $1.65 billion this time round. There are 20 sponsoring companies including Coca Cola, Adidas, Hyundai, Qatar Airways etc. There are seven Chinese companies among the 20 sponsors, backed by a Chinese government push to get more involved although China has qualified just once for the World Cup.
READ MORE | FIFA World Cup 2018: The VAR is on in Russia
Sponsorship deals have suffered in recent years after a corruption scandal at the apex of FIFA broke open in 2015. Sepp Blatter, long reigning monarch of FIFA had to quit and several top officials face criminal charges for taking bribes to fix venues and hosts or favour companies. Many Western companies became chary of sponsorship, thinking that it would taint their goodwill.
The third largest revenue generator for the FIFA World Cup was ticket sales in Brazil, and it is expected to be the same in Russia. In the 2014 Brazil World Cup, some $530 million were raked in from ticket sales. In Russia, almost all tickets have been sold out. FIFA has set up a completely owned subsidiary company for handling its ticket business. In Russia this time, a block of low cost tickets have been set aside for Russian citizens.
Apart from these three big revenue streams, hospitality rights and various other smaller revenue earning methods are in place.
READ MORE | Russia Overwhelm Saudi Arabia 5-0 in FIFA World Cup Opener
So, what about the spending involved in holding the massive tournament across 11 cities and involving 64 matches?
As per FIFA rules, this expenditure is borne by the host country. Russia had initially budgeted for a $20 billion bill when it got the hosting rights in 2010. Those were the days of oil boom and Russian economy was on a roll. However, continuing fall in oil and gas prices has led to a flagging economy. Russia cut the budget down to $10 billion.
Latest reports suggest that about $12 billion is the current cost estimate. Major costs include transportation infrastructure — from upgrading airports and metro lines to roads to stadia etc. — and renovation of stadia in all cities. Russian govt. is claiming that the World Cup will boost the country's GDP by 1% and has already created 2.2 lakh jobs. However, past experience shows that many of the estimated benefits don't last in the long run.
One major expenditure that is borne by FIFA is prize money. This is $400 million for this World Cup, not counting $391 million that has already been given to the 32 qualified countries for preparation or to clubs for releasing their players. Of the $400 million prize money, a whopping $38 million will go to the ultimate winner on 15 July while the runner-up will get $28 million. The rest will be distributed according to the stage at which a country got knocked out. At a minimum, each country will get at least $8 million.
This is by no means the largest prize money in football. In the 2017-18 season, the 20 participants in English Premier League got a total of $2.9 billion while the UEFA paid $1.6 billion in prize money in its latest edition. But World Cup prize money has been increasing steadily over the decades.
It was back in 1974 that the football World Cup started becoming heavily dependant on private capital. Held in Germany, under the then FIFA president Joao Havelange, a Brazilian, it saw the involvement of major sponsors who paid big money to get promotional space. Adidas, the sportswear company was headed by Horst Dassler, who pioneered this idea and reaped the benefits from this gambit. Now, the mega-event is completely dominated by the companies. The beautiful game is in reality a captive of big business.